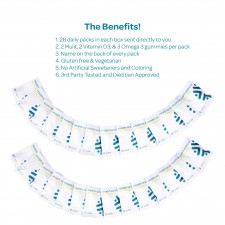 There are a countless number of vitamin companies and vitamin brands in the United States. However, many of these brands are not convenient or customized. It is time that that changed and now there is a company to turn to in order to get delicious vitamins that are both convenient and customized.
Dallas, Texas, June 9, 2016 (Newswire.com) - ​​​​Why is it that in the year 2016 vitamin and supplement companies still do not offer customized and convenient products? Well, with vitafive, this is all about to change. There are thirteen essential vitamins that your body needs. These vitamins are vitamin A, B vitamins (thiamine, riboflavin, niacin, pantothenic​ acid, biotin, vitamin B-6, vitamin B-12 and folate), Vitamin C, Vitamin D, Vitamin E, and Vitamin K.[1] Doctors and scientists believe that generally people can get all these vitamins from the foods they consume, but the truth is that many people aren't eating a healthy and rich enough diet to actually obtain all the vitamins they need.[2] It is important to make sure that you are getting a sufficient amount of vitamins because each vitamin has a specific job and if your body lacks certain levels of vitamins, you may be at risk of health problems.[3]
At vitafive, we offer eight different vitamins that come in gummy form. These vitamins include:
1. Vitamin C
2. Calcium
3. Multivitamin
4. Biotin
5. Vitamin D3
6. Omega-3
7. Melatonin
8. CoQ10
vitafive's vitamins are not only essential for your health but they are also delicious, convenient, and customizable.
There are, of course, many vitamin companies and brands in the United States that offer vitamins, supplements, and vitamin packs. However, these companies do not offer a personalized and customizable product. At vitafive, we offer personalized gummy packs that are sent to you through a subscription every four weeks. Our custom gummy vitamin packs are personalized to you and even come with your name on them. The personalized product makes taking your vitamins an enjoyable experience!
Our vitamin packs are not only personalized but can be customized, meaning you can choose from our list of vitamins and include up to four different vitamins in a pack that best fits your needs. For instance, if you are into fitness but also want to include a multivitamin in your pack, you can choose the Multivitamin gummy (helps to provide the nutrients and minerals your body needs on a daily basis), a Calcium gummy (crucial for building and maintaining bone density and strength) and a CoQ10 gummy (generates energy within every cell in the body, including the heart). With a customizable gummy pack, you get to choose what vitamins are best for your body's supplement and mineral needs!
Many vitamin companies also do not offer a product that is convenient for you. We want to change that with vitafive. We send gummy vitamins directly to your door every four weeks! Now you don't have to go to the store and stand in the vitamin and supplement aisle trying to decide what vitamins you should buy. Now you can just check out our gummies page and choose the gummy vitamins you want from the convenience of your home.
Another bonus of our gummies is that they aren't in pill containers, are already sorted for you into packs for each day of the week and are in gummy form. Now you don't have to deal with the hassle of sorting through your pills each week. And you get to enjoy delicious tasting gummies that aren't in pill form.
With vitafive, we are changing the vitamin market. Our product is convenient, customizable and delicious. It's health without the hassle! ​
[1] https://www.nlm.nih.gov/medlineplus/vitamins.html
[2] http://www.preventive-health-guide.com/doctors-and-vitamins.html
[3] https://www.nlm.nih.gov/medlineplus/vitamins.html
Source: vitafive
Share: